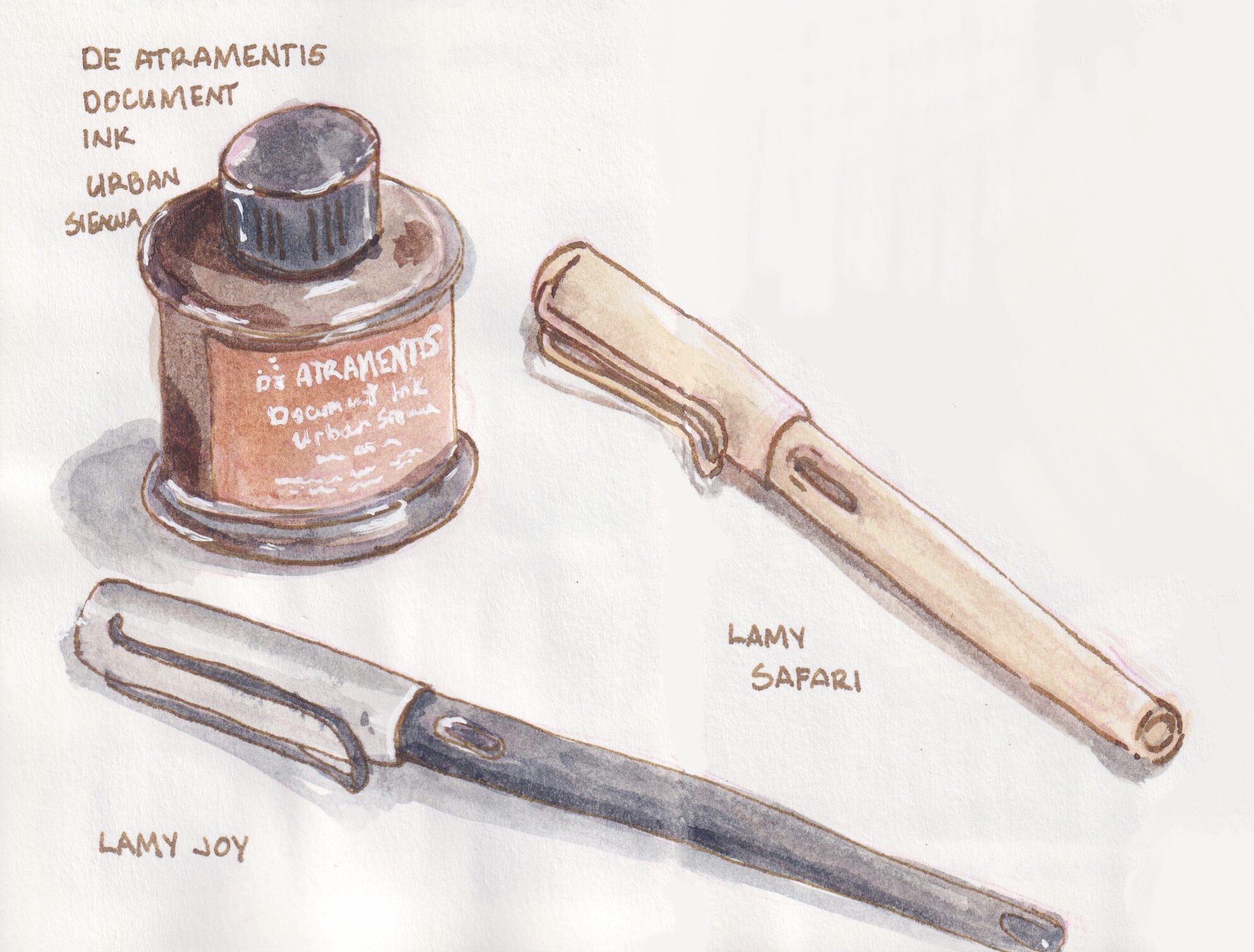 I bought my first fountain pen in 2017 after getting a new job. It wasn't immediate love, in fact after playing around with it for a bit it sat sadly unused for the next few years. I was a big fan of gel pens and brush pens for journaling, and as a calligrapher I was disappointed with the lack of flex in the steel nib. I liked the idea of fountain pens, but didn't have a great use for it.
More recently, I've given fountain pens another go - this time for sketching as well as writing. Now I can appreciate the smooth writing experience, the balance of the beautiful pen that isn't destined for landfill when the ink runs out, and the myriad of ink options. I flushed out that first pen I bought and set it up with permanent ink I can use in watercolour paintings. Now my fountain pens are my go-to for writing and sketching.
I don't intend to become a serious collector and my budget is on the lower end, but here's what I have:
Pens
Lamy Joy in matte black, Extra Fine nib. My first fountain pen!
Lamy Safari in cream, Fine nib. This is currently my main writing pen.
Kaweco Sport in mellow blue, Fine nib. My newest pen, I'm still deciding if I like how compact it is.
Inks
Parker Quink in blue. My main for writing. I used to use this ink with dip pens and brush calligraphy.
Sailor in black
De Atramentis Document Ink in urban sienna. I use this for most of my drawing line work these days.
De Atramentis Document Ink in black
This is a potentially expensive rabbit hole to go down, so for now I intend to stick with my 3 pens, one each for blue, sepia and black ink. If I want to get more colours I might need a "fun colours" pen…